Work with us to connect our audience to your shows and events
Audience Snapshot
2.1M
ENGAGED
AUDIENCE
MEMBERS
1.3M
MONTHLY
WEBSITE
VISITS
Who We Are
WhatsOnStage.com is the UK's leading consumer theatre website and has been an essential and trusted voice in the theatre community for over 26 years.

The website encompasses a listings database of 14k+ performances nationwide, unrivalled theatre news and exclusives, insightful reviews, compelling interviews, blogs and features plus eye-catching videos. We are also a central source for great tickets at fantastic prices, the home of the WhatsOnStage Awards (now in their 23rd year) and our London Theatre Club, with a loyal membership of 1.5k+.

We are for everyone who loves theatre, from both the consumer and industry side of the business, and aim to promote, support and champion all those that make theatre possible across the UK.

The scale of our editorial coverage, innovative content creation and the strength of our social media community, combined with our advertising offering, make us unique within the UK marketplace and work together seamlessly to get you the best results.

We are informed, intelligent, influential but also inclusive, personable and a lot of fun – made by theatre lovers for theatre lovers.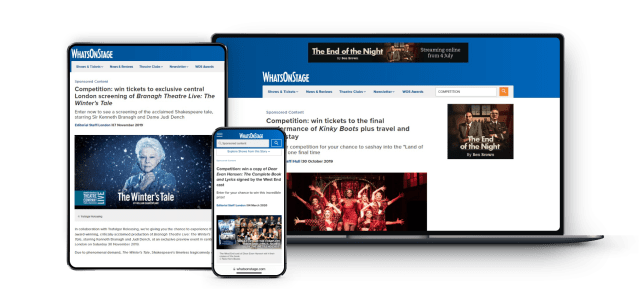 Impactful Promotion and Distribution Across Multiple Channels
We are passionate about live and streamed entertainment and will work with you to promote your show/event/venue to our audience – one of the most highly engaged, theatre and arts-loving demographics available online.

You can access our audience via bespoke and high impact web, email, content, and social media campaigns along with carefully tailored packages that maximise your reach across our channels no matter the length of your run, the size of your auditorium or budget.
Trusted by Hundreds of Organisations, Just Like You
Whether you are putting on a show or event or are a venue in the West End, Off-West End, Fringe or around the UK, 200+ live events organisations trust WhatsOnStage to connect them with millions of arts enthusiasts.

Our monthly social reach exceeds 13m consumers. We have over 640k social media followers plus 400k newsletter subscribers over three databases.

We welcome new advertisers – we are approachable, easy to work with and can offer recommendations and support throughout.
Advertising
WhatsOnStage is the ideal partner when you need to reach new consumers and sell more tickets. Millions of theatre-loving patrons are engaging regularly with our news, reviews, video, and social content along with insights from the world of the West End and beyond. We are theatre lovers through and through and they turn to us for information, recommendations, and inspiration. We want to work with you to bring our audience to your shows.
START ADVERTISING
Grow Your Reach by Seamlessly Listing With us
With over 800k monthly users from around the UK, listing your production on WhatsOnStage.com is an incredible promotional channel you can leverage to get the word out about your next show either as a high-value backlink to grow your organic search traffic or you can sell tickets directly with us….
START ADVERTISING
Create Buzz and Fill Your Seats with WhatsOnStage Gold
Collaborate with our Theatre Club to create a tastemaker's buzz about your show or event, generate future loyal audiences and move inventory quickly and discreetly.

We can help you fill the house at the last minute for important performances and energise the auditorium with our engaged event-loving members.
FILL YOUR SEATS