HIGH IMPACT AD
RUN-OF-SITE
WhatsOnStage has a variety of ad units that run throughout our site in rotation with other banners and outside of any takeovers.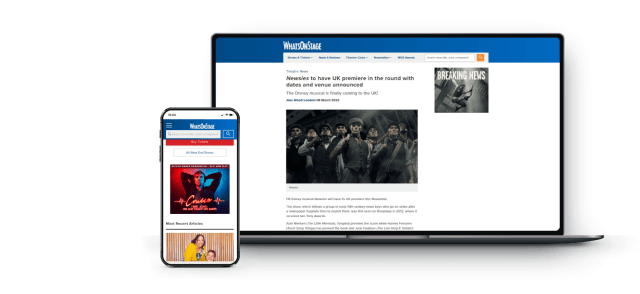 Technical Specifications
All assets due 7 days prior to campaign launch. Any creative with a white background must have a 1px black border.
SITE SKIN
BANNERS
FORMAT
JPG Only – safe zone info for WOS is here.
FORMAT
Size: 100KB max
Formats accepted: JPG, GIF, HTML5 or Google Ad Manager compatible third party tags
Leaderboard: 728px wide by 90px high
MPU: 300px wide by 250px high
Mobile banner: 320px wide by 50px high
ADDITIONAL ROADBLOCK UNITS
HIGH IMPACT BANNERS
FORMAT
Size: 100KB max
Formats accepted: JPG, GIF, HTML5 or Google Ad Manager compatible third party tags
FORMAT
Size: 250KB max
Formats accepted: JPG, GIF, HTML5 or Google Ad Manager compatible third party tags
Billboard: 970px wide by 250px high
HPU: 300px wide by 600px high
LEADERBOARD
FORMAT
728px wide by 90px high
MPU: 300px wide by 250px high
Mobile banner: 320px wide by 50px high
Size: 250KB max
Formats accepted: JPG, GIF, HTML5 or Google Ad Manager compatible third party tags
Billboard: 970px wide by 250px high
HPU: 300px wide by 600px high