SOCIAL MEDIA
TWITTER
With a combined social following of over 640k, leverage the power of the WhatsOnStage brand with our social media offerings. Each campaign is tailored to appeal to our theatre-loving followers while they scroll through their social media feeds. They are engaged, passionate, loyal and love to interact.
We find that video tends to show the highest performance, but images are also fine, and we will include a call-to-action button/link that prompts the reader to find out more about your show or book tickets.
We can also help you to bring announcements to life with custom-made and interactive campaigns for your new cast, new show/season, new content or even a tour of your set, plus a takeover of our channel with a pinned tweet and header artwork!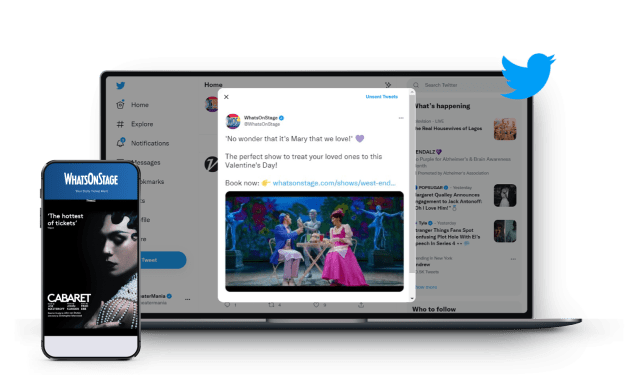 Downloadable video file with no end card: MP4 only, max 140 seconds long, max size 1GB Preferred copy – this may be tweaked to suit our tone of voice